Dublin drag artist Dame Stuffy has announced a brand new show! The powerhouse panto performer from Ballymun will bring her C'mere 'Til I Tell Ya! show all the way to Liberty Hall on November 29.
Dame Stuffy is a hilarious comedienne, a powerful live singer and an all-round entertainer with some fans describing her as Ireland's Lily Savage …with just a hint of Dame Edna for good measure!
Dame Stuffy has been a staple of many people's Christmas panto traditions for the past 10 years and is highly regarded by many in her home town of Ballymun as everyone's favourite agony aunt. A regular fixture in Holding Court Theatre Groups annual Pantomime at Axis Ballymun and the resident Christmas Cabaret artist at The Red Cow Inn, she has also recently enjoyed two sell-out performances of her extravaganza show!
If that wasn't impressive enough, now she will be performing in November as the new Bingo Lady at the soon to be opened Adelphi Hotel and at the Canal Bar!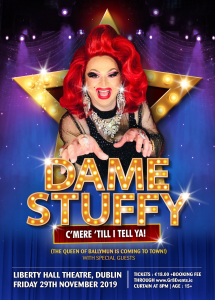 We talked to Dame Stuffy and her drag sister, Carrie Déway earlier this year ahead of a previous show. She explained at the time that she began life on the panto stage. Though there was no denying her love for the damehood, she began to come up with jokes that she could never say in front of an audience of children. In terms of influences, Stuffy cherishes the old school of drag – Dame Edna, Lily Savage and Mr Pussy. she added, "We sing live, we want to show that drag queens can sing, can be funny. They don't always have to be just pretty."
Now, she is taking the city centre by storm and has kindly given GCN readers the chance to win tickets to her fabulous show. If you awn;t one of the winners, you can also pick up tickets for the unmissable show here.
To enter the competition, simply answer the following question:
Where is Dame Stuffy originally from?
© 2019 GCN (Gay Community News). All rights reserved.
Support GCN
For 30 years GCN has been a vital, free-of-charge information service for Ireland's LGBT+ community. We want to go on providing this community hub in print and online, helping countless individuals across the country, but the revenue from advertising across the media is falling.
GCN needs your support. If you value having an independent LGBT+ media in Ireland, you can help from only €1.99 per month. Support Ireland's free, independent LGBT+ media.