Dublin Pride is happy to announce veteran LGBT+ rights activist and noted Irish queer artist Will St Leger as the Grand Marshall of 2019's parade and festival.
The team shared: "We are absolutely delighted to announce veteran LGBT+ rights activist and artist Will St Leger as our Grand Marshall for 2019! Will has done incredible work for our community, having been involved in activism for many years now, from Greenpeace to more recently ACT UP Dublin. We are super excited to see Will lead this year's #RainbowRevolution."
St Leger, a former Greenpeace activist, is instantly familiar on the Dublin activism scene for his tireless battle for LGBT+ rights.
In 2009, St Leger co founded an LGBT+ direct action group, Equals, and in June 25 of that year, staged a direct action at entrance of the Dáil in Dublin. In discontent with what they saw as the inequality in the Civil Partnerships Bill, they chained themselves to the gates of the building. St Leger climbed onto the pillars of the gates, remaining there for over two hours and was subsequently arrested by the police.
Jed Dowling, Dublin Pride Festival Director, commented: "I remember ten years ago, about a dozen of us standing at the gates of the Dáil, and looking up and watching Will stand on the pillar and realising 'I'm about to follow him into hell', and hoping he knew the way back out.
"This time we're only going from the GPO to Merrion Square – still, there's no one I'd rather have lead the way."
In more recent activism, St Leger is an outspoken member of ACT UP Dublin, lobbying and advocating for comprehensive sexual health services and demanding fair and open access to PrEP.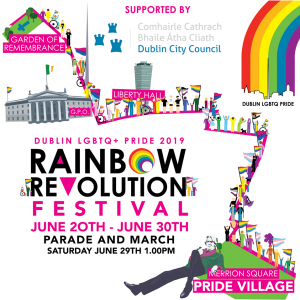 St Leger responded to being made Grand Marshall by saying, "Pride is whatever you make it. If Pride means joining your friends and wearing something fabulous – do it. If it means wearing an activist t-shirt and chanting – do it. If it means bringing your partner and kids to stroll along and enjoy the sights and sounds – do it.
"Pride is a mix of the personal and the political. Never let anyone tell you what Pride should be."
Speaking of the theme of Rainbow Revolution, the Dublin Pride Team shared: "2019 marks the 50th anniversary of the Stonewall Riots and thus the birth of the modern LGBT+ rights movement. In the words of Stormé DeLarverie – 'It was a rebellion, it was an uprising, it was a civil rights disobedience. It wasn't no damn riot'."
© 2019 GCN (Gay Community News). All rights reserved.
Support GCN
For 30 years GCN has been a vital, free-of-charge information service for Ireland's LGBT+ community. We want to go on providing this community hub in print and online, helping countless individuals across the country, but the revenue from advertising across the media is falling.
GCN needs your support. If you value having an independent LGBT+ media in Ireland, you can help from only €1.99 per month. Support Ireland's free, independent LGBT+ media.